This is Lauren
And Erin


This was one of the latest shoots I got to work for Cam of Cam Oden Photography, (formerly Odenphotography). He is one WONDERFUL photographer! He never ceases to amaze me with his ability to capture the perfect lighting and really bring out his subjects' best features. I absolutely love Lauren's urban yet exotic look, and thought that flaming red lipstick (my staple, M.A.C.'s Russian Red) would be perfect for her. Erin's eyes are such a gorgeous shade of blue they are UNREAL, so I applied concentrated charcoal eyeshadow all over the lid to draw even more attention to them. The finishing touches for Erin were heavy false lashes and a glossy, neutral lip. Lauren got fringier lashes to go with her edgier look and we kept her lipcolor matte. To my amazement, Lauren was the artist behind both models' hairstyles. Girl's got beauty and talent! (-;
...wish I could rock a "fro"hawk!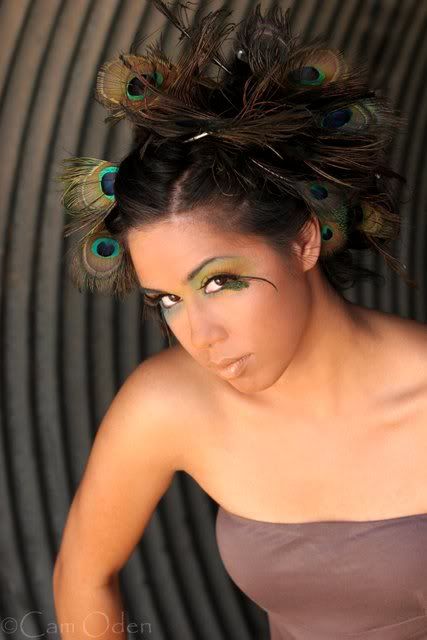 Peacock feathers have always inspired me...lucky for me Angi loves them too, and let me use them to turn her into an exotic bird one afternoon for this shoot! She has feathers trailing down one side of her face, and I actually used some feathers in place of false lashes on the other side to create an assymetrical effect. After the makeup application, I went on location with the model and photographer to watch the magic happen-I loved seeing Angi's dramatic poses and movements-she really got into character!


I have to admit, while I think every ethicity is beautiful and fun to "make up," I really think Asian features are one of my favorites. You can blame it on my obsession with Japanese culture, anime and conventions if you like! Jennie is Thai, and I think she is such a doll, so my goal with this look was to fool you into thinking she literally was one! A perfect porcelain doll...and I am quite happy with the result! I outiftted our model with the blonde bob wig, and fashioned the netting veil she is wearing out of some stiff, black tulle. My favorite aspect of her makeup is the bright pink blush applied very high on her cheeks. I was inspired by various geisha artwork and pictures, and some photos of those crazy kids hanging out at Harajuku Square in Japan...a place I really hope to visit someday!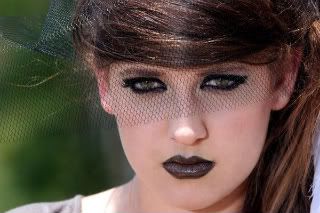 I was going for a really extreme look for this shoot....really intense eyes and lips, and I think Claire looks truly striking! I love how eyes take on a different life when you frame them in black or gray. Claire's hazel eyes seemed to morph to an intense green and gold after the makeup application. Not only do I love creating really unique looks like this for photoshoots, but I love when the model embodies it well in the photos, too. Claire's angsty expressions are perfect! Even though she is the friendliest most outgoing girl off camera!

I think this is a very fairy-esque look, which is interesting since it was photographed at night. My favorite touches are the antique looking flowers framing her face, and the false lashes attached to her lower lash line. Come to find out, Laura's favorite color is purple! Good thing, because she was covered in it! I love her natural look-she has an almost vintage appeal to her, at least in my opnion. She was a great model.
(Photo Credits: Cam Oden Photography)