On September 22nd 2007 I was lucky enough to get to help this beautiful bride get ready for the most exciting day of her life! The Bride is Angi Treichelt (now Angi Phillips). You might recognize her from my banner and Portfolio. She is one of the most beautiful brides I have ever seen...although all brides are beautiful. All MY bridal clients especially! (I know, I'm biased, haha).
Angi has naturally curly hair, (and yes, that is all her own hair-no extensions here!), and while she likes her hair both naturally curly and straightened, she wanted larger, looser curls for her big day. Angi straightened her hair the night before and I went to work with the curling irons the morning of the wedding, switching off between a medium and a large barrel iron. I like that she still wanted her hair to look natural. I teased the roots for volume in the back and pinned the small section of hair above the veil.
Keeping with the natural look, Angi requested extremely light makeup. She doesn't need much to go from beautiful to knockout! She wore very light powder/foundation, natural toned eye shadows, a thin swipe of liquid liner and black mascara. I added short, black individual lashes to the outer corners of her eyelashes and brushed a small amount of M.A.C.'s Peaches blush to the apples of her cheeks. With a tiny bit of nude lipliner and clear gloss she was ready to go!
Photography by Aaron Delesie Photographer, Inc.
www.aarondelesie.com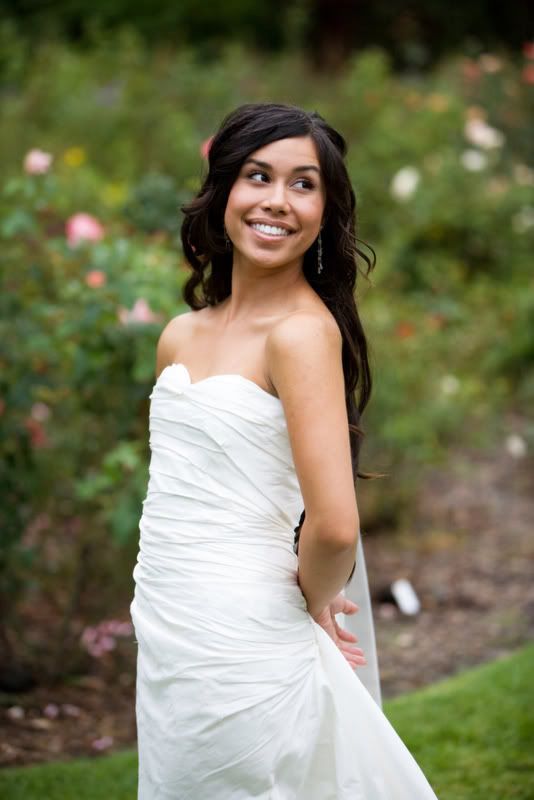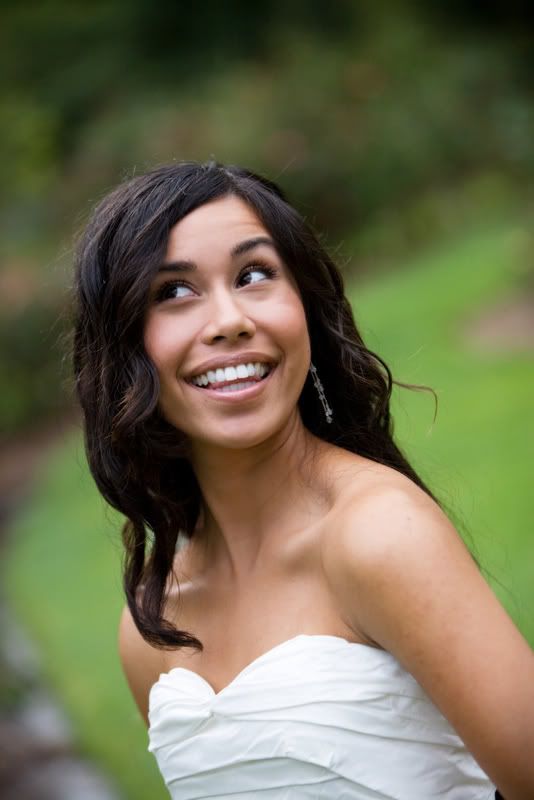 Below is a photo of Angi and her adorable cousin Heather (who was one of her bridesmaids). I did Heather's makeup that day too.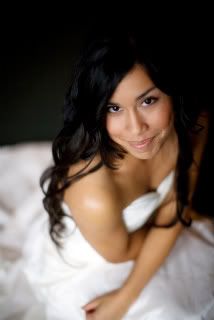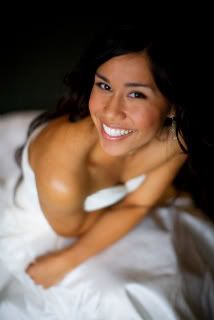 Behind the scenes...It was a beautiful September day, even though the weather wasn't exactly ideal for an outdoor afternoon wedding! It showered off an on throughout the morning, and misted the girls during the pre-ceremony photos. Good thing I was there keeping the curling irons hot to put some life back into Angi's relaxing curls!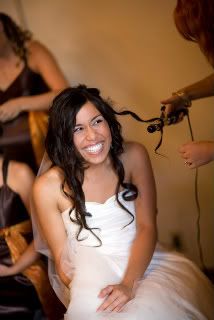 (And just in case you were wondering, the ceremony went off without a hitch and without real drops of rain...until the moment Angi and Matt shared their first kiss as husband and wife. Then the skies opened up and misted gentle rain, enhancing the moment and signaling the guests to head inside for the cocktail hour and reception!)
I got to join in the fun too! (-:
What a great wedding!
Congratulations Angi and Matt!
...And since I am posting this almost exactly a year after your big day, Happy happy first anniversary!